After recording their first e.p. in 2006, Pretty Good Dance Moves singer Jimmy Giannapoulos said his farewells to Chicago and loaded up his truck to move to New York City. Six months later, multi-instrumentalist Aaron Allieta called Jimmy with some news. The e.p. was actually getting some notice around town, and national music publications were starting to pay attention to this one-off side project. During this time, Jimmy had established himself as a resident of Brooklyn and a bartender on the Lower East Side. Through these convenient locations, he was able to convince a few friends to appear in videos for his small e.p., including a correspondent from The Daily Show/ Flight of the Conchords personality, as well as a former contestant from America's Next Top Model. When he realized that Aaron had been working behind the scenes in Chicago, Jimmy flew back to record a few more songs with an up-and-coming local star known for her big voice and amazing stage presence.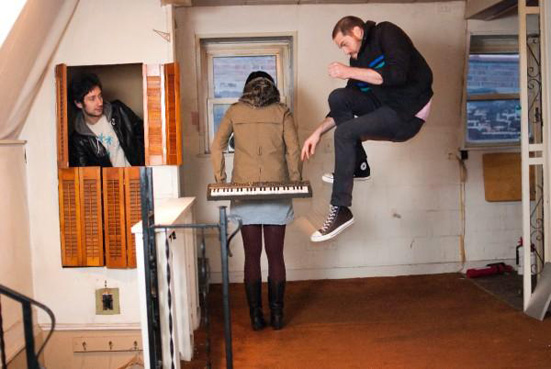 These new recordings caught the attention of Seattle's influential KEXP radio station, who invited the band to do an in-studio while they were broadcasting in Chicago for a week. This dynamic performance immediately launched the band into the national spotlight, with a KEXP staff member later naming it the best in-studio of the year. Meanwhile, SPIN magazine decided to release the video starring the Comedy Central regular on their website, and many other music websites started paying more attention to Pretty Good Dance Moves.
Demand for more content from Pretty Good Dance Moves had increased to the point that it was time to record a full-length album. The band was forced to get creative in their collaborations. The up-and-coming female vocalist with whom they had worked had recently signed a record deal and was unavailable to work on the new EP. Her absence turned out to be a blessing, opening the door for Pretty Good Dance Moves to work with multiple artists, rather than limiting themselves to one vocalist.
Thus began the search for more unknown stars to compliment Jimmy's songwriting and Aaron's production skills. With Aaron still in Chicago and Jimmy in New York, the band was able to cover a lot of ground. They spent many nights in sleazy rock clubs, scouting for raw talent to transform through their music. Their efforts paid off. They created mutually beneficial relationships with several female vocalists, who lent their vocal talents to Pretty Good Dance Moves, while PGDM's music highlighted the beauty of their voices. Even a Swedish pop star most known for a catchy whistle-refrained hit took notice and lent a hand writing and singing on one jam.
Pretty Good Dance Moves' recording process was prolonged by these many successes and a few memorable failures. Pretty Good Dance Moves was only able to record in studios at night, long past the bedtime of the rest of the world. Fueled by late night drug binges, certain hired producers were unable to function and wasted several thousand dollars worth of studio time. Another producer friend held some masters hostage while trying to convince Jimmy and Aaron to let him join the band. Through these unpleasant experiences, Pretty Good Dance Moves learned valuable lessons about the sordid underworld of record production and accepting offers of help from "friends."
Pretty Good Dance Moves emerged from the recording process better than ever, with a hot record of sexy jams, each with its own story. They were also fortunate to have found a stunning vocalist in Angelina Lucero, who was gracious enough to agree to share her talent with audiences during Pretty Good Dance Moves' live shows. With precious experience gained from this journey, Pretty Good Dance Moves looks toward the future with equal parts caution and optimism.